Beautiful Me...
After speaking to a lot of young ladies at the
"Beautiful You" Slumber Party
I started to really think about the words God put in my heart before I spoke...
I am usually a blubbering fool when it comes to talking about myself.
I try not to talk about myself unless somebody asks or seems interested,
but once they do... sometimes it is hard for me to put on the breaks.
I was flattered to be asked to talk this past weekend about fashion to the MMS FCA girls.
But, before I spoke at this event, I prayed for God to give me His words instead of my own.
And...since I am boasting in Him, I think We did very well!
2 Corinthians 12:9
And He said to me, "My grace is sufficient for you, for power is perfected in weakness." Most gladly therefore, I will rather boast about my weaknesses, s that the power of Christ may dwell in me.
As I spoke to the girls on the topic of personal style and confidence,
I looked at their unique faces, smiles, bodies, clothes...
He revealed through me that each one of them was created by the same Master,
yet they are all so different.
It is not right for us to compare ourselves to others
just as it is wrong to talk bad about ourselves.
Both are insults to the Creator Himself.
We are not made to critique our Maker.
Would it be respectful to point out Van Gogh or DaVinci's mistakes in their Master Works?
We have no place or right to since we are not better than them...
If God is the ultimate Creator of all, Master of all Masters, Molder of Da Vinci and Van Gogh's creative minds and hands...
then we, as His creation, are ultimately
For us to deny this does not make us humble or wise, but contrarily makes us shrink God and his design.
He made us unique, with love, with detail, with care.
The very way we were created is a gift from Him.
Every fold in every mold, every brushstroke's visibility in us is just an evident mark or our Maker!
If your earthly Father gave you a very special gift that was priceless and could not be recreated,
would you care for it, keep it clean, and out of harm's way...
or toss it around in neglect letting it get scratched, stained, and ruined?
Of course we would LOVE IT and care for it!
If we neglect this gift of creation, we are like spoiled children of a loving Father neglecting His design that He made uniquely for us and nobody else.
One masterpiece cannot be compared to another. This is what makes them so special.
So, in turn we should not compare ourselves to others. Trying to live up to or become another person will drive you nowhere but to failure and vane depression.
Does Mona Lisa say to Starry Nights, "I wish I looked like you!"?
There is no way to compare the two unique Masterpieces...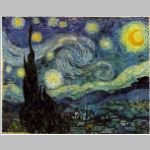 So, it is time to admit it and accept it,
You are absolutely Marvelously Made!